Impact Crusher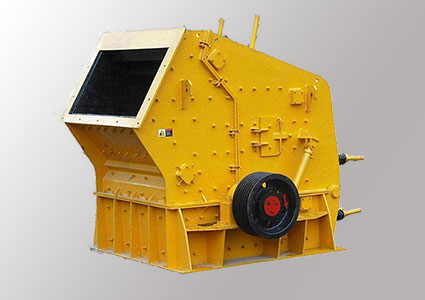 Applications: Widely used in building materials, ore crushing, and medium and fine materials in railways, highways, energy, transportation, energy, cement, mining, chemical and other industries.
Material: Suitable for hard rock brittle non-metallic materials with crushing edge length of 100-500mm and compressive strength up to 350Mpa, mainly used in industrial sectors such as metallurgy, mining, cement, chemical, refractory materials and ceramics, as well as highway construction. , water conservancy projects, construction gravel, machine sand processing and other fields. It is more suitable for coarse, medium and fine crushing of various soft and medium hard ores, such as limestone, feldspar, calcite, talc, barite, rare earth, clay, kaolin, dolomite, kaolin, gypsum, graphite, etc.
Impact Crusher Types: small models(PF serie), large model(2PF).
---
Case:
Customer uses the same size of impact crusher for crushing local granite. Granite is mainly used for road construction projects, which has relatively high requirements, and the stone produced by the impact crusher not only can meet the demand, and the crushing rate is much higher, creating greater ecomomic benefits for customers.
Impact Crusher Introduction:
Impact crusher is a new type of high-efficiency crushing equipment, which is characterized by small volume, simple structure, large crushing ratio, low energy consumption, large production capacity, uniform product size and selective crushing. It can be used for crushing raw materials for cement production.
Technical Parameter of Impact Crusher:
product name
model
specification
Weight(t)
Design capability (t/h)
Dimensions - mm
Main technical performance
Motor power Kw
Impact Crusher
AG PF-54
Φ 500 *400
1.4
4-8
1495*1152*1010
Feeding <100mm discharge <20mm, spindle speed 970r/min
7. 5
Impact Crusher
AG PF-107
Φ 1000*700
6.2
30-50
2170*2650*1850
Feeding <250mm, discharge size 30mm
45
Impact Crusher
AG PF-1210
Φ1250*1000
14.8
45-80
4025*3967*2850
Feeding <250mm discharge <20mm, main oil speed GSOr/min
115
Impact Crusher
AG PF-1315
Φ1320*1500
21
100-180
3329*2613*2705
Feed <300mm, discharge < 10mm
220
Double rotor impact crusher
AG 2PF-1010P
Φ1000*1000
24
57-70
4360*3380*3200
Feeding <450mm, discharge <20mm, first rotor speed 640r/min, second rotor speed 860r/min
75
75
2.2
Double rotor impact crusher
AG 2PF-1212P
Φ1250*1250
53
100-140
5025*5614*4053
Feeding <850mm, discharge <20mm, first rotor speed 530r/min,
130
155
2.2
Two rotor speed 680r/min
Impact Crusher Components and Performance:
The machine is composed of 5 parts: the body part, the rotor part, the front counterattack plate and the rear counterattack plate and the uniform slab.
Suitable Material: non-metallic materials that is hard rock with brittleness, and the strongest anti-crush pressure is less than 350Mpa.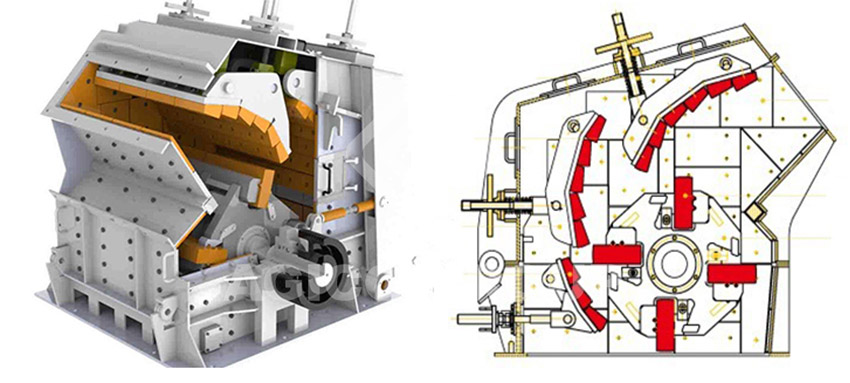 The materials' size between 100mm and 500mm. Mainly used in metallurgy, mining, cement, chemical, fireproofing and ceramics and other industries, as well as highway construction, water conservancy construction, gravel, sand processing and other fields.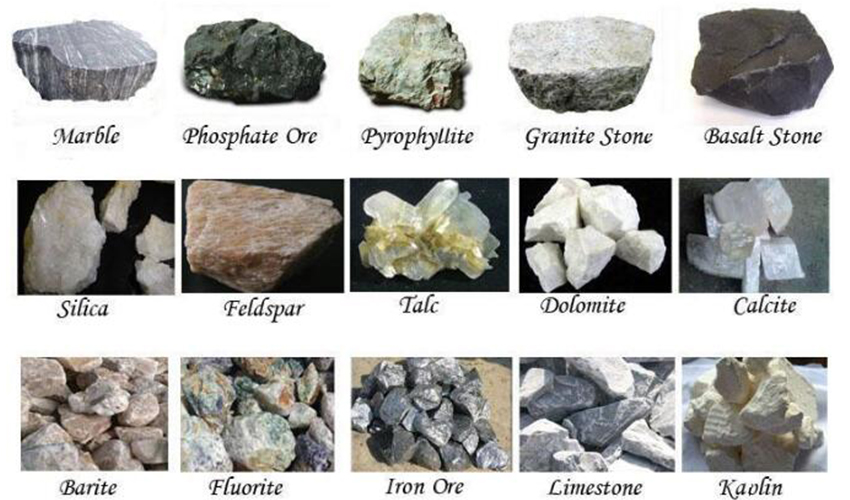 As the character of quick-wear, the application of impact crusher in crushing high hardness materials is limited.
It is more suitable for a variety of soft and medium hardness ore, such as limestone, feldspar, calcite, slide stone, barite, rare earth, clay, kaolin, dolomite, kaolin, gypsum, graphite and so on. It can be used for primary crushing, secondary crushing and fine crushing.
Technical advantages:
Simple structure, small volume, light weight, large production capacity, and low production cost. Large feed inlet , high crushing chamber, able to process high hardness material;
The ore is broken along the joint surface, with low power consumption and high efficiency;
The crushing ratio reaches up to 40, crushing process is simplified, and the 3-stage crushing can be changed into two sections or one section crushing, and the equipment cost of the mineral processing plant can be reduced;
The clearance between the counterattack plate and the plate hammer can be conveniently adjusted, and the particle size of the discharge is effectively controlled, forms good particle shape;
High-chromium plate hammer, which is resistant to impact, abrasion and impact;
No key connection, convenient maintenance, economical and reliable;
Complete crushing function, high productivity, small wear of the machine parts, and high comprehensive benefits;
It has a selective crushing options, and the crushed product has a relatively uniform particle size, with cubic stone shape.
Full hydraulic opening, easy to repair and replace wearing parts;
Impact Crusher Working Principle:
The impact crusher is a crushing machine that uses impact energy to break up hard materials. While the impact crusher is working, the rotor rotates at high speed under the driving of the motor. Then raw material enters the action area of ​​the hammer, it collides with the hammer on the rotor, and raw material is thrown to the counter-attack device to break again, and then rebounds from the counter-attack to the hammer action zone, and repeat again, and the material is repeatedly broken in the first, second and third counter-attack chambers, discharge small particles from the discharge port after crushed to the required particle size.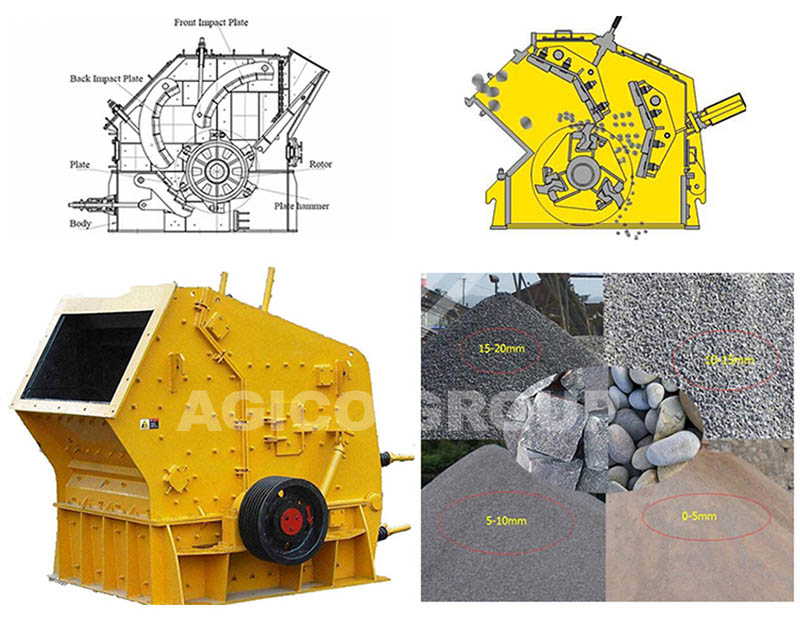 Adjusting the gap between the counter frame and the rotor can achieve the purpose of changing the material discharge size and material shape. The stone material falls directly from the upper part of the machine into the high-speed rotating turntable; under the action of high-speed centrifugal force, the other part is divided into the flying stone around the turntable by the umbrella type to produce high-speed collision and high-density crushing. After the stone hits each other, the stone will A vortex motion is formed between the turntable and the casing to cause multiple blows, friction, and pulverization, and is discharged straight from the lower portion. The closed loop is repeated multiple times and controlled by the screening device to achieve the desired particle size.
How To Maintain Impact Crusher
1). According to the specific conditions, the machine can be operated only after the protective device is installed on the triangle belt wheel.
2). No materials beyond the required size and no uncrushable materials.
3). Check the bolts between the rotor and hammer every 2 working hours. Immediately repair it if bolt is loose.
4). Check the counter-attack plate every 24 working hours in case of looseness.
5). Check the wear condition of hammer, change it in time when it is worn.
6). Rotating in required direction.
7). Add II calcium base grease on bearings every 800-100h; clean it with kerosene and replace the new grease once a month.
8). Stop and check when the machine works with abnormal sound and vibration, operate the machine only after making sure the bug is eliminated.
9). Don't open the check door when machine is working.
10). All the motor, controller and other electrical device meet the electrical safety requirements.
Tips when use the impact crusher machine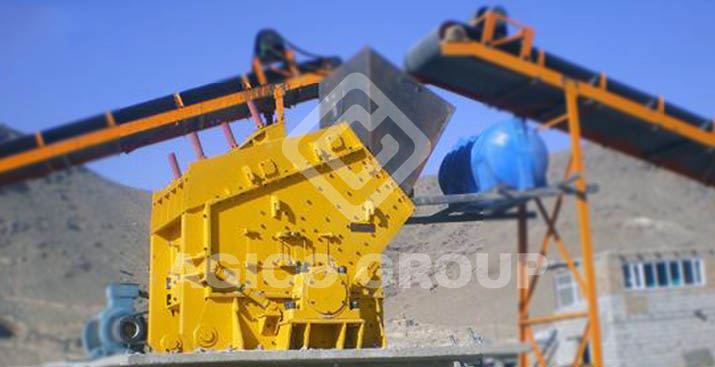 Lubrication must be sufficient;
bolts must be tightened;
check doors must be tightly sealed;
hammer on the rotor and impact plates must be fastened;
clearance between the rotor hammer and the impact plate is appropriate, and no jam.
Feeding materials gradually after making sure motor working well.
Turn off the machine only after stop feeding materials.
Turn off the motor only after all the material are discharged in the crushing cavity in machine.