Cone Crusher Machine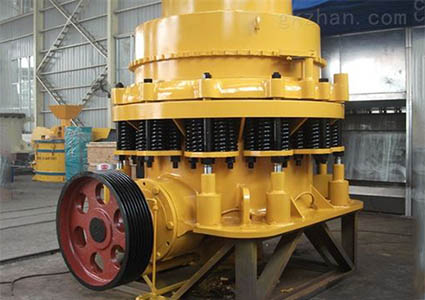 Cone crusher is a newly developed hydraulic crusher with high power, large crushing ratio and high productivity. The machine was developed on the basis of digesting and absorbing various types of cone crushers with international advanced level in 1980s. It is clearly different in design from conventional cone crusher structure and concentrates on main advantages of various types of cone crushers. Cone crusher is suitable for fine crushing and ultra-fine crushing of hard rock, ore, slag, refractory materials, etc. It is widely used in dry cement production plant in raw material crusing process, especially for stage 2 and stage 3 crushing.
Application Fields of Cone Crusher:
Cone crusher is suitable for crushing of raw materials in the metallurgy, construction, road construction, chemical and silicate industries, and can break various ores and rocks of medium and medium hardness. It has large crushing ratio, high efficiency, low energy consumption and uniform product size. It is suitable for medium and fine crushed ores and rocks.
Cone Crusher Structure and Components: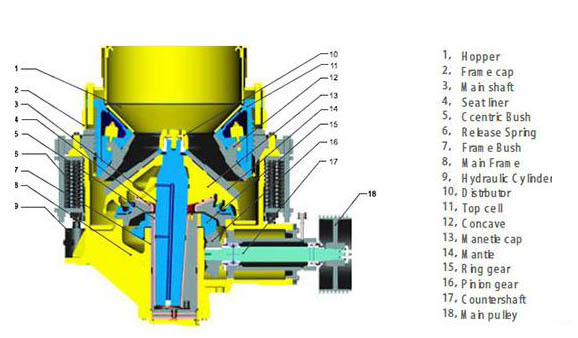 The components of cone crusher mainly includes frame, horizontal axis, moving cone, balance wheel, eccentric sleeve, upper broken wall (fixed cone), lower broken wall (moving cone), hydraulic coupling, lubrication system, hydraulic system, The control system is composed of several parts.
Why Cone Crusher is Your Best Option:
(1) Hydraulic System, Which has a hydraulic system to adjust the size of the crushing material, and hydraulic system can effectively ensure safe operation of the equipment. When there is unwanted matter in the crushing chamber, hydraulic system can automatically lower the moving cone. When the unwanted matter is discharged, the system automatically resets falling moving cone. Re-maintain original discharge port position and continue to work;
(2) Crushing Cavity Type, Crushing cavity type refers to geometric space formed between moving cone and fixed cone. The shape of crushing chamber has a great influence on equipment performance. Crusher cavity type is main technical indicator of crushing. The machine is designed in four sizes from coarse to fine, and it has six possible combinations, which means it is best suited to user's specific requirements;
(3) Reliable Sealing: Labyrinth sealing device is used to replace water-type seal used in the past, so that dust and impurities can not enter human body, thus ensuring cleaning of lubricating oil and prolonging the service life of sliding bearing and thrust ball bearing. Ensures cone crusher running reliably;
(4) Convenient Replacement: In the past, it is comlicated to replaced broken linner of old type crusher, and linner can be replaced for new structure of cone crusher replaced very quickly. For the upper broken linner is equipped with a card tip, it is fixed by bolting up. The lower broken wall is fixed by hydraulic nut. The back and bottom of the broken linner do not need to add any filling material, so replacement is fast, and the reduction is reduced. Labor intensity of workers;
(5) Adjusting Discharge Port: It uses a high-pressure-resistant displacement sensor, and discharge port position is adjusted in the operation room. With one button press, there is a display on the console, and you can see the size of the drain port you need to adjust, which is very convenient and accurate.
Cone Crusher Models and Specification:
Equipment
Model
Specification
Weight (t)
Design capability (t/h)
Cone crusher
Φ1200
Standard
25
110-168
Medium
24.8
42-135
Short head
25.5
18-105
Cone crusher
Φ1750
Standard
50.3
280-480
Medium
50.3
115-320
Short head
50.3
75-230
Cone crusher
Φ2200
Standard
79
59-1000
Medium
80.5
200-580
Short head
80.5
120-340
Simmons cone crusher
5.5YP.00D
Short head fine (1607)
53.9
90-200
Short head medium (1608)
54.2
150-310
Short head type (1613)
53.8
210-370
Short head thick (1614)
53.7
253-336
Simmons cone crusher
5.5YP.00B
Standard fine type (1620)
52.2
180-320
Standard medium (1624)
51
255-410
Standard coarse type (1626)
54.4
330-700
Standard extra thick (1636)
54.2
475-750
Simmons cone crusher
AG PYS-DC
Short head (2110)
101
320-500
Short head medium (2113)
100
380-650
Short head type (2117)
101
500-740
Short head thick (2120)
100.5
580-780
Simmons cone crusher
AG PYS-BC
Standard extra thick (2146)
102
1060-1600
Standard coarse type (2136)
103
900-1450
Standard medium (2133)
103
750-1200
Standard fine type (2127)
103.2
500-880
Cone Crusher Technical Performance:
Equipment
Main Technical Performance
Transmission part
Motor
Model
Power (kw)
Cone crusher

Feed ≤145 discharge size 20-50
AG JS126-8 730r/min 220/380V
110
Feed ≤100 discharge size 8-25
Feed ≤50 discharge size 3-15
Cone crusher

Feed ≤215 discharge size 25-60
AG JS128-8 735r/min 220/380V
155
Feed ≤185 Discharge size 10-30
Feed ≤85 discharge size 5-15
Cone crusher

Feed ≤310 discharge size 30-60
AG JSQ158-12 490r/min 6000V
260
Feed ≤ 230 discharge size 10-30
Feed ≤100 discharge size 5-15
Simmons cone crusher



Feed port size: 70mm
discharge opening adjustment range: 5-13mm
AG JS136-6
240
Feed port size: 89mm
discharge opening adjustment range: 6-19mm
AG JS136-6
240
Feed port size: 133mm
discharge opening adjustment range: 10-16mm
AG JS136-6
240
Feed port size: 133mm
discharge opening adjustment range: 13-19mm
AG JS136-6
240
Simmons cone crusher

Feed port size: 210mm
discharge opening adjustment range: 16-38mm
AG JS136-6
240
Feeding port size: 240mm
discharge opening adjustment range: 22-50mm
AG JS136-6
240
Feed port size: 269mm
discharge opening adjustment range: 25-64mm
AG YRKK4003-6
220
Feed port size: 370mm
discharge opening adjustment range: 38-64mm
AG YRKK4003-6
250
Simmons cone crusher

Feeding port closed side size: 51mm
feed port size: 105mm
discharge opening adjustment range: 6-16mm
AG Y450-46-6
400
Feeding port closed edge size: 95mm
feed port size: 133mm
discharge port adjustment range: 10-19mm
AG Y450-46-6
400
Feeding port closed side size: 127mm
feed port size: 178mm
discharge opening adjustment range: 13-25mm
AG Y450-46-6
400
Feeding port closed edge size: 152mm
feed port size: 203mm
discharge opening adjustment range: 16-25mm
AG Y450-46-6
400
Simmons cone crusher



Feeding port closed edge size: 425mm
feed port size: 460mm
discharge opening adjustment range: 38-64mm
AG Y450-46-6
400
Feeding port closed side size:
334mm feed port size: 369mm
discharge opening adjustment range: 31-64mm
AG Y450-46-6
400
Feeding port closed edge size: 303mm
feed port size: 334mm
discharge opening adjustment range: 25-50mm
AG Y450-46-6
400
Feeding port closed edge size: 253mm
feed port size: 278mm
discharge opening adjustment range: 22-38mm
AGY450-46-6
400