Cement Silo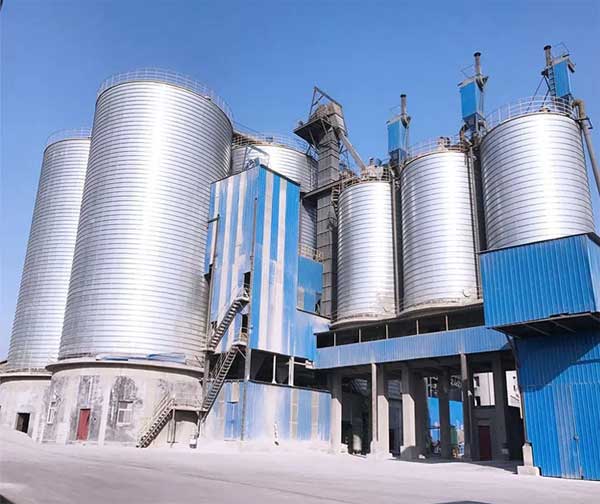 Cement Silo Introduction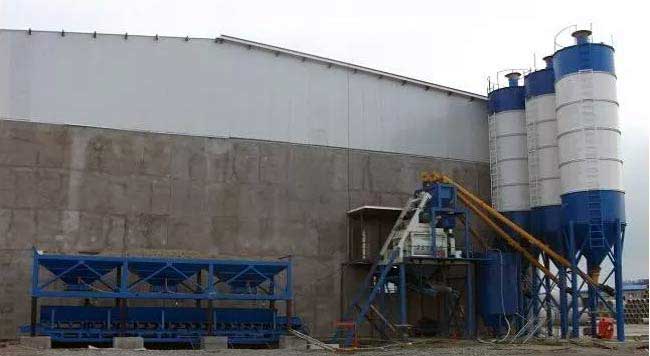 Bolted-type silo is used for storing bulk materials such as grains, cement, powder, lime, gypsum, fly ash, different binder materials, gravel, limestone, sand and different chippings.
Application: bolted-type silo is mainly used in many areas, such as construction material, chemical engineering, energy resources, environmental protection and foodstuff, like loading and unloading plants, dosing-weighing and mixing plants, batching plant etc.
Cement silos are generally used in the bulk cement storage of concrete mixing plants, suitable for storing various bulk building materials such as cement, fly ash, etc. The silo body is equipped with a material level system that can display the location and stock of materials, and the hole device can avoid material deposition Too long and strong. The cement bin and screw conveyor can be used together to transport materials to various locations. The bin body is easy to install, safe and reliable, and is an ideal bulk storage tank for various mixing stations.
Cement silos generally have two types, integral welding type and bolted segmented type, with an output of 50 tons to 1000 tons. The integrally welded cement silo is suitable for transportation by flatbed trucks, and the bolted segmented cement silo is suitable for container transportation.
Cement Silo Specification
| Capacity (tons / m³) | Size | Diameter(m) | Height(m) | Silo Weight(tons) |
| --- | --- | --- | --- | --- |
| 500tons/385m ³ | Φ7m×H10m | 7m | 10m | 10tons |
| 1000tons/754 m ³ | Φ8m×H15m | 8m | 15m | 15 tons |
| 1500tons/1099 m³ | Φ10m×H14m | 10m | 14m | 20 tons |
| 2000tons/1696 m³ | Φ12m×H15m | 12m | 15m | 30 tons |
| 3000tons/2260m³ | Φ12m×H20m | 12m | 20m | 42 tons |
| 5000tons/3886 m³ | Φ15m×H22m | 15m | 22m | 66 tons |
| 6000tons/4416m³ | Φ15m×H25m | 15m | 25m | 79 tons |
| 10000tons/7850 m³ | Φ20m×H25m | 20m | 25m | 118 tons |
Cement Silo according to Size
Item
50t
80t
100t
120t
150t
200t
300t
Tank
Height(m)
4.5
7.5
9
10.5
13.5
9
8.25
Diameter(m)
3
3
3
3
3
4.5
5.5
Section quantity
3
5
6
7
9
6
5.5
Each section is divided into three pieces,the height of each section is 1.5 meters.
Cone
Top cover
Top cover is divided into two pieces.
Height(m)
2.6
2.6
2.6
2.6
2.6
3.8
4.8
Pieces
Cone is divided into 5 pieces.
Discharging
Discharging height(m)
≥1.5
≥1.5
≥1.5
≥1.5
≥1.5
≥1.5
≥1.5
Landing leg height(m)
≥4.1
≥4.1
≥4.1
≥4.1
≥4.1
≥5.3
≥6.3
Landing leg height depend on discharging height.
| | | | |
| --- | --- | --- | --- |
| Sio Size | Diameter(m) | Eave Height(m) | Silo Bottom |
| 1000ton | 8 | 13.5 | Concrete Flat |
| 2000ton | 12 | 14 | Concrete Flat |
| 5000ton | 15 | 22.5 | Concrete Flat |
| 6000ton | 16 | 23.5 | Concrete Flat |
| 5000ton | 18 | 24.5 | Concrete Flat |
| 10000ton | 23 | 22 | Concrete Flat |
| 20000ton | 28.5 | 28 | Concrete Flat |
| 50000 ton | 42 | 35 | Concrete Flat |
Permanent Cement Storage Silo and Portable Cement Silo
The height and volume of cement storage silo vary according to different storage requirements. In real world application, the cement storage silo can be structured to hold no more than a few tons of dry cement production, or be designed to efficiently hold several hundred tons. Generally speaking, cement storage silos with big size are cannot be moved because of permanent structures. Cement silos with permanent structure are likely to be found at concrete plants, where the finished product is stored until it is time for shipment. Many building sites that utilize concrete in the construction process opt for portable cement silos that can be moved around the site as the need arises.
It is very common for construction companies to keep several portable cement silos available for different building projects. These simple storage devices can usually be set up in a matter of hours, then dismantled once the project is complete. The storage principle of the portable cement silo is quite easy, since the components can be stored in a warehouse until the device is needed at another building site.
As a necessary equipment of cement storage silos, blowers are necessary for both the permanent and the portable cement silo. The blower makes it easier to expel the product from the silo. Blowers are often driven by electricity, although there are models that rely on propane or even gasoline. Blower equipment with the portable silos takes very little time to set up, and can also be stored easily when not in use.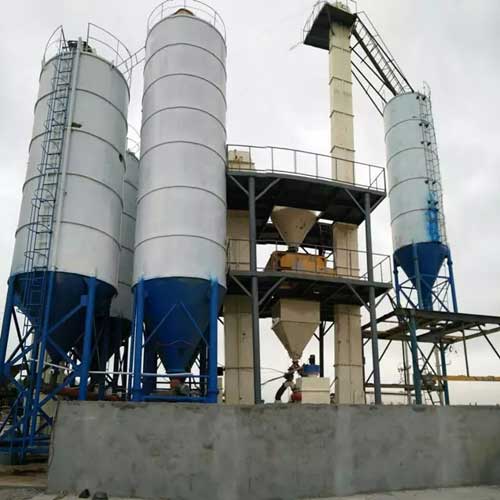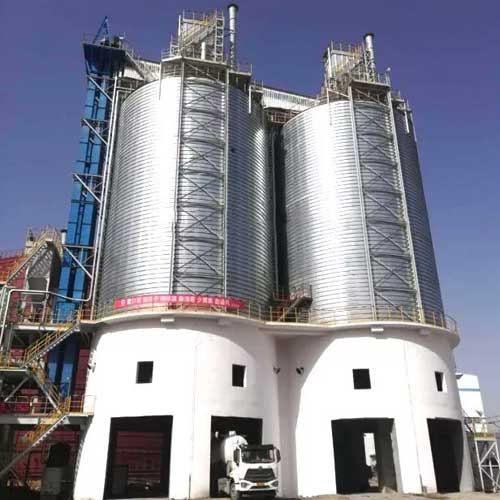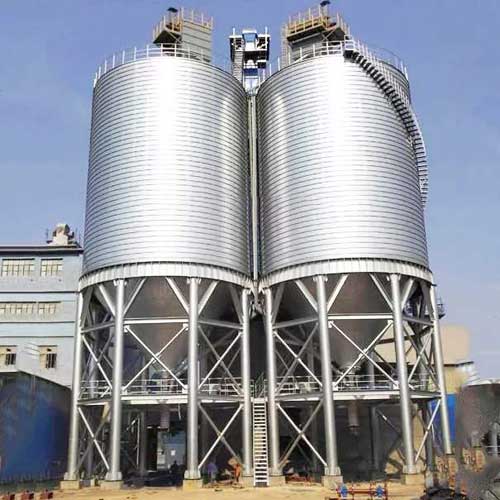 For cement silos 50T or under, we recommend non-detachable welded type becasue they can be loaded into 40 feet container.
For cement silios above 50T, we recommend detachable bolted type due to its advantage of money-saving during transportation.
Cement silo parts:
The cement bin (cement tank) consists of: steel structure part, ladder, guardrail, loading pipe, dust collector, pressure relief valve, high and low material level gauge, unloading valve, etc.
Description of dust removal system, arch breaking device and material level device:
1. Dust removal system: an electric dust removal device is installed on the top of the cement chamber, which can effectively absorb suspended particles in the chamber and reduce pollution to the surrounding environment.
2. Arch-breaking device: the lower cone of the cement chamber is equipped with a blow-air arch-breaking device, which USES the small electromagnetic reversing valve located in the air control chamber to control the release of compressed air to break the arch of cement and various powder materials, so as to avoid the blockage caused by powder accumulation.
3. Material level device: the material level device of cement silo can sense the storage height of material in the silo.
Our principle business includes two parts:
1) Silos and its facilities meanwhile can provide silo project design and installation;
2) Advanced aeration system and technology.
As a professional export and import company, we provide with unique design concept, sophisticated equipment, advanced grain storage and milling technology, capable to meet the different needs of all customers and help get the first priority in the fierce market competition.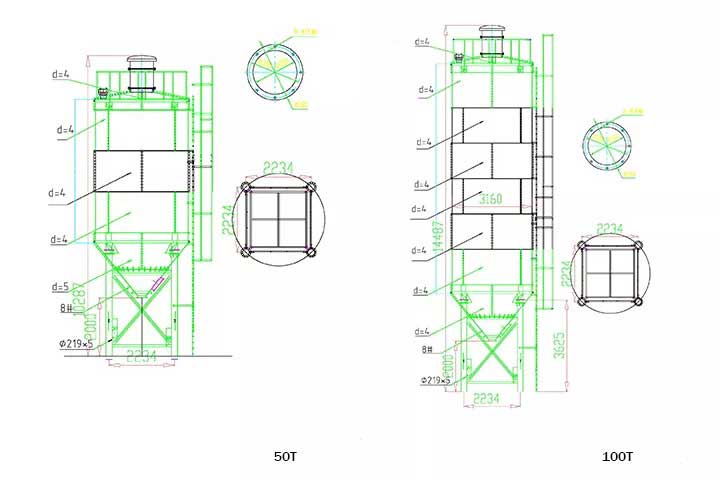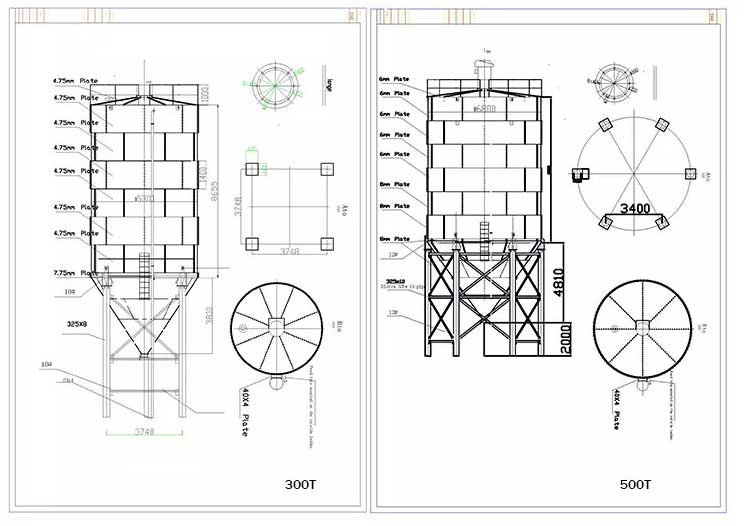 Bolted Cement Silo Introduction :
This product is made from galvanized steel silo, especially for powder storage, such as cement, slag,mine powder,plaster ,flyash etc.
It has many advantages:
1. Galvanized silo , coat thickness:275g/m2
2. Long service life-designed for 20 years
3. Lower cost and short installation period
4. Moisture resistance and rust resistance
5. Low maintenance cost
6. Bolt free
Galvanized spiral silo
Widely used for medium storage capacity, can be 500ton ~ 8000ton. Also can be flat or hopper type. With perfect sealing, fast construction (compared with same capacity welded silo and concrete silo) etc advantages. Constructed by galvanized steel, have good anti-corrosion performance.
Welded silo
Widely used for large storage capacity, can be 1000ton ~ 100000tons. Investment is much lower than same capacity concrete silo. Widely used in China leading cement plant, famous transit project etc. It is a very mature technology, and proved by many silo projects in China.
Hopper silo
Full steel structure silo: the capacity is generally more economical between 200-3000T. Widely used in bulk truck loading silo, transit silo etc. The advantages of simple delivery, convenient use, and low maintenance cost.