Pipe Conveyor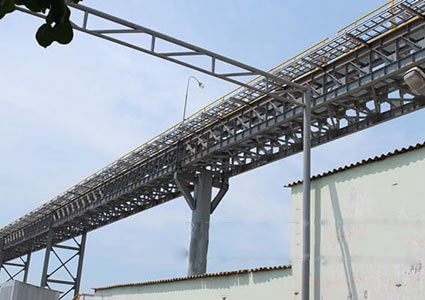 Application: Pipe conveyors find their application in virtually every industry for the transport of bulk solids. These include cement, fertilizer, coal, power, steel, pulp and paper, food grains etc. Pipe conveyors overcome several of the problems commonly associated with conventional conveyors, e.g. spillage of materials, belt training, limited angles of conveyance, horizontal curves and multiple flights.
Material: Some of the difficult materials handled by pipe conveyors are cement, flyash, gypsum, fluidized rock phosphate, alumina, sinter, sludge, wood chips etc.
What is Belt Conveyor in Cement Plant
Belt conveyor system is widely used in various scales of cement plant, as material delivery is one key process for the materials to move from quarry to cement delivery station.
Why belt conveyor is so popular? Belt conveyor system is the most economic transportation equipment for cement processing plant, also it is easy to maintain for conveyor belt venting makes sure that any troublesome affairs can be fixed in time.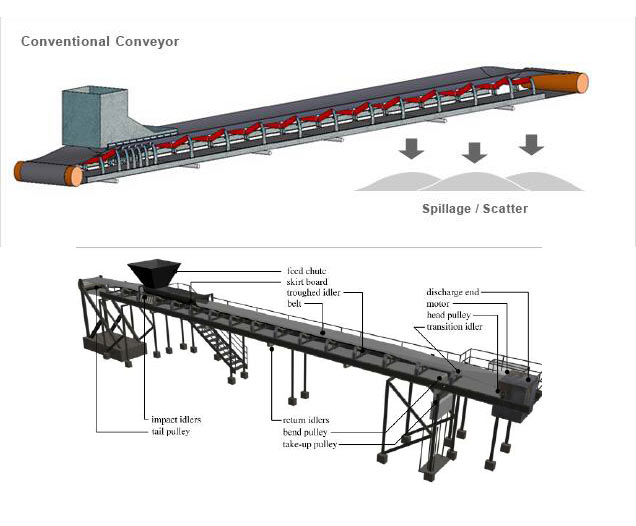 Belt Conveyor Cement Plant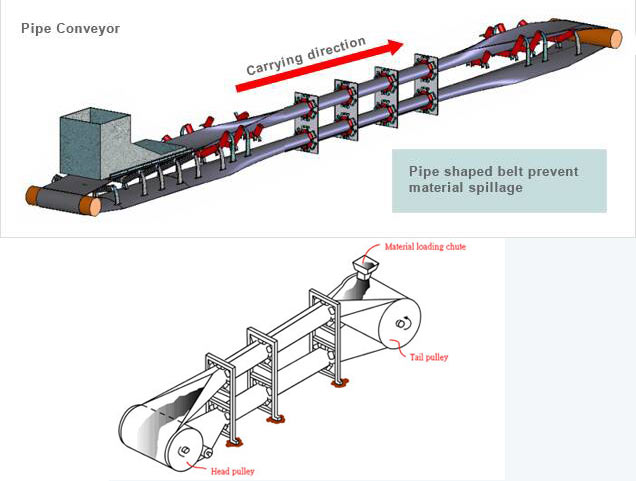 Pipe Conveyor Cement Plant
Pipe Conveyor from AGICO Cement
AGICO supplies 2 types of conveying solutions for cement plant: Belt Conveyor System and Pipe Conveyor System. As the conveying equipment system is very complicated, AGICO Cement offers detailed designing, fabrication, procurement, delivery, installation, commissioning and all the other works.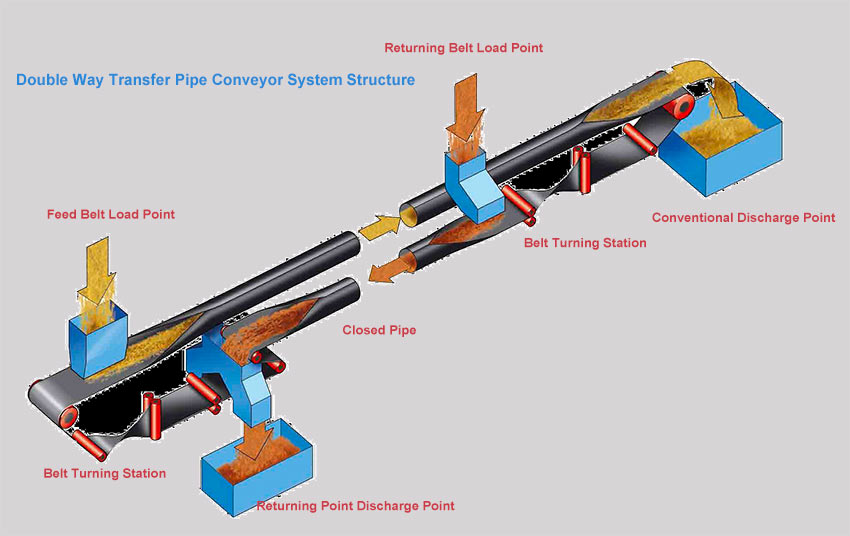 Pipe Conveyor system composed of following parts:
This system includes the Pipe conveyors, Conveyor transfer tower, conveyor galleries, drive station, Pulleys, idlers, steel structures and all the ancillary equipment and facilities.
Advantage of Pipe Conveyor System
PIPE CONVEYOR also manages to transport difficult materials, i.e. powder and/or materials that are similar to liquid.
Pipe Conveyor system is environmental friendly transport system, which is better than numerous problems with traditional transport systems such as material spill, limitation with steep incline and curve layout. Also pipe conveyor is able to deal with materials which are not easy to transport, such as powder and liquid like materials.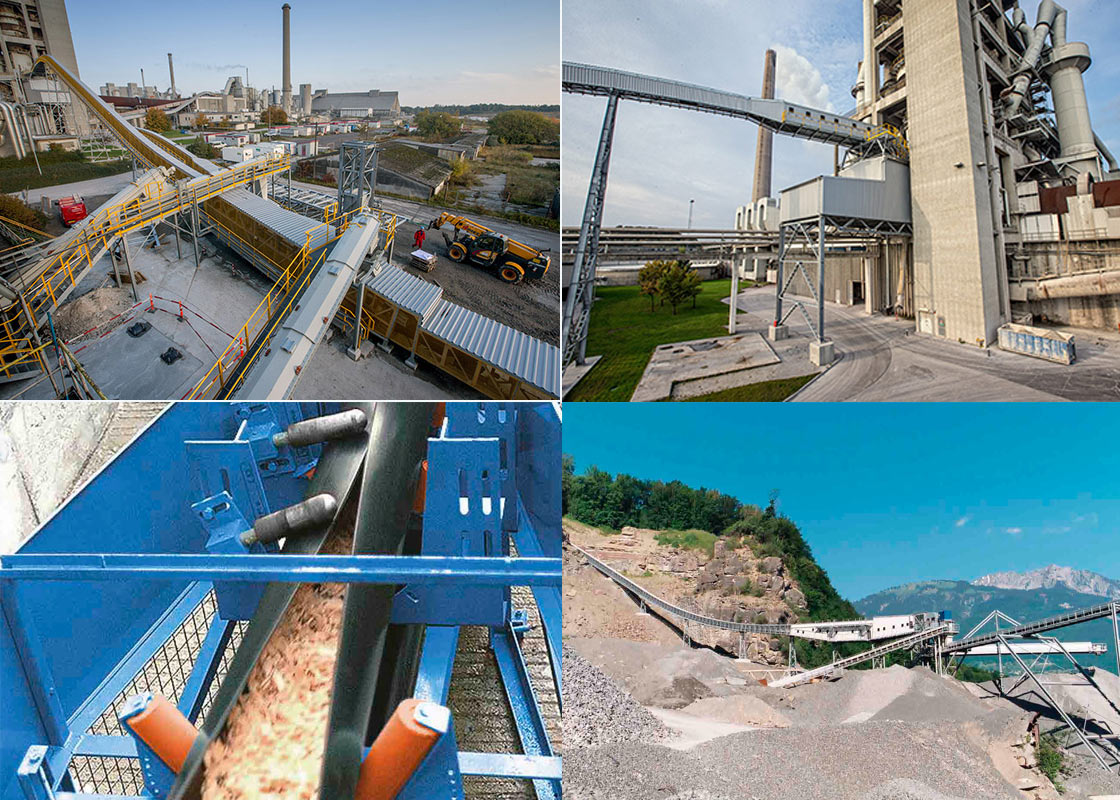 Pipe Conveyor of Working Principle and Feature:
The most obvious feature of pipe conveyor is the completely enclosed belt, this enclosed design can help material spill and environment pollution, also it solves the problems of allowance for tight curves, inclination angles up to 30° and two-way transportation. It also brings benefits of low cost in investment and maintenance cost, high operation safety level.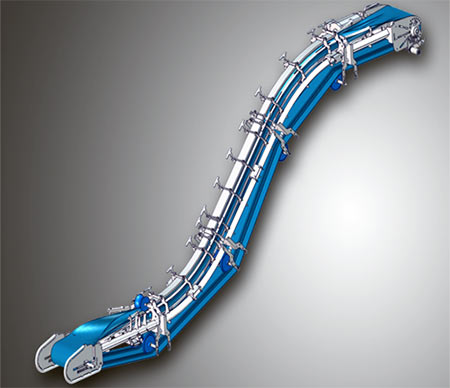 Pipe Conveyor has following disadvantages: high energy consumption, larger required belt width, overload sensitivity, oversize sensitivity, difficult repair and backed-up heat.

The disadvantages of pipe conveyor makes it not suitable for all application fields, but it can be used for many special fields. Pipe conveyor equipment can be designed with different configurations, AGICO CEMENT is able to provide the best pipe conveyor design with belt type, closing mechanism, idler configuration, belt returning and feeding and discharge sections.
Why Choose Pipe Conveyor System for Cement Plant
Cement plant industry adopts pipe conveyor system for its 2 way transfer and dust suppression feature. One way direction is to transfer limestone and alumino-silicate material from mining field to cement plant, the other way (lower run direction) is to transfer clinker back. Material Clinker consists of big and small particles, the later are sensitive to vibration and would lead to dust pollution in the working area with the belt conveyor system, and that's why pipe conveyor is a better choice. Usually the belt material of pipe conveyor is required to be heat resistant due to the high clinker temperature which is not cooled before the transport.