Bucket Elevator Conveyor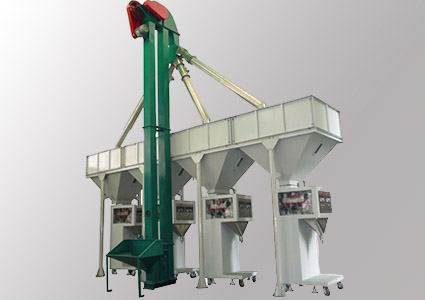 Applications: Widely used in metallurgy, mining, coal, chemical, light industry, building materials, electricity, food and other industries
Material: granules and ore
Buket Elevator Types: chain hoist (TH) series, plate chain hoist (NE) series and tape hoist (TD)series.
---
Case:
The chain hoist HL315 Bucket Elevator supplied was selected by Inner Mongolia customers in the 600t/d active lime production line for lifting materials. The conveyed materials were introduced from feeding port and placed in hopper. Moving hopper is lifted and conveyed, and when the head wheel is reached, the direction change material is discharged. In the whole material conveying process, the chain runs smoothly and has no failures. The hopper design has a reasonable load, the chain wear resistance is high, and the tail tensioning device is convenient for adjustment and maintenance. Ningxia customers and Yunnan customers have also selected chain bucket elevators for the active lime production line to enhance materials.
Bucket Elevator Description
The bucket elevator conveyor has the advantages of large conveying capacity, high lifting height, stable and reliable operation and long service life. It is widely used in metallurgy, mining, coal, chemical, light industry, building materials, electric power, food and other industries. According to different traction methods, it is divided into chain hoist (TH) series, plate chain hoist (NE) series and tape hoist (TD)series.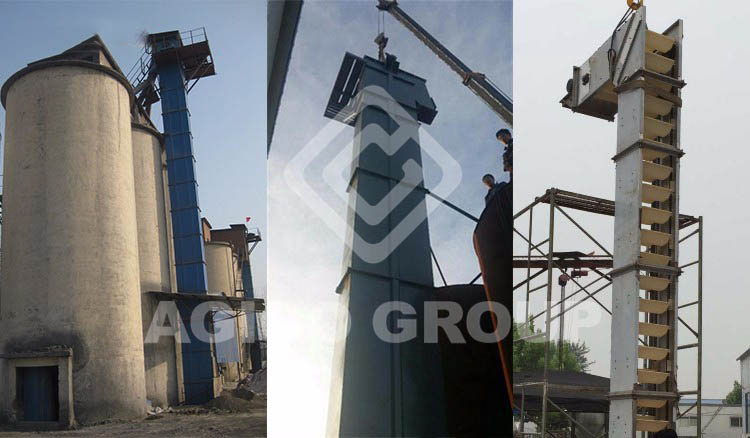 TH chain hoist bucket elevator
Chain bucket elevator is a commonly used lifting device. This series of hoists adopts a forged chain as the transmission part and has strong mechanical strength. It is mainly used to transport powders with a bulk density of less than 1.5t/m3. Lifting equipment for low-friction materials such as granules and small blocks, such as coal, cement, gravel, sand, fertilizer, and grain. The lifting height can reach about 50m, and the material temperature is required to be below 250 °C.
TH Bucket Elevator Technology Parameter
Chain bucket elevator model
AG TH160
AG TH200
AG TH315
AG TH400
Hopper model
ZH
SH
ZH
SH
ZH
SH
ZH
SH
Capacity (m3/h)
15.8
25
17.9
28.6
38
59
58
94

Hopper
Volume(L)
1.2
1.9
1.5
2.4
3.75
6
5.9
9.5
Distance(mm)
500
512

Chain
Diameter pitch of round steel
14*50(mm)
18*64(mm)
Single strand breaking load
≥190(kN)
≥320(kN)
Drive sprocket speed(r/min)
69.71
63.22
44.2
44.2
Max material size(mm)
20
25
35
40
NE plate chain hoist bucket elevator
The chain bucket elevator is a new type of bucket elevator, which uses a chain drive. It is named after the lifting amount instead of the bucket width. Suitable for vertical conveying of powdery, granular and block materials, and can also improve materials with high abrasiveness, such as fly ash, slag, limestone, cement raw materials, cement clinker, cement, coal, dry clay and so on. The material temperature is generally not more than 250 ° C, and the lifting height can be up to 40 m.
NE Bucket Elevator Technology Parameter
Plate chain bucket elevator model
AG NE30
AG NE50
AG NE100
AG NE200
AG NE300
AG NE400
AG NE500
AG NE600
Capacity (m3/h)
31
60
110
220
320
440
470
600


Hopper
Volume(L)
7.5
14.7
35
85
127.3
210
260.9
300.2
Distance(mm)
304.8
400
500
500
600
700
700
Hopper speed(m/s)
0.3-0.5
Max material size(mm)
65
90
130
170
170
200
240
275
TD Belt hoist bucket elevator
The traction member of the belt hoist is rubber belt, the structure is relatively simple, and it is used more in the lifting of conventional materials. It is suitable for vertically conveying powdery, granular and small pieces of loose materials with less abrasiveness, such as grain and coal, cement, crushed ore, etc., is not suitable for conveying materials with high abrasiveness. The lifting height is up to 40m and the material temperature does not exceed 60 °C.
TD Bucket Elevator Technology Parameter
BLET chain bucket elevator model
AG TD100
AG TD160
AG TD250
AG TD315
AG TD400
AG TD500
AG TD630
Hopper model
Q
H
Zd
Sd
Zd
Sd
Zd
Sd
Zd
Sd
Zd
Sd
Zd
Sd
Capacity (m3/h)
4
7.6
16
27
38
59
42
67
68
110
96
154
148
238
Hopper
Volume(L)
0.15
0.3
1.2
1.9
3
4.6
3.8
5.8
5.9
9.4
9.3
15
14.6
23.5
Distance(mm)
260
350
400
500
560
625
710
Hopper speed m/s
1.4
1.4
1.6
1.6
1.8
1.8
2
Max material size(mm)
20
25
35
45
55
60
70
Theses 3 types of hoists can be selected according to the following: 1, whether the material is in the form of powder or granules or small pieces; 2, whether the material has abrasiveness, adsorption or viscosity, whether it contains water. 3, the specific gravity of the material and the amount of delivery per unit time.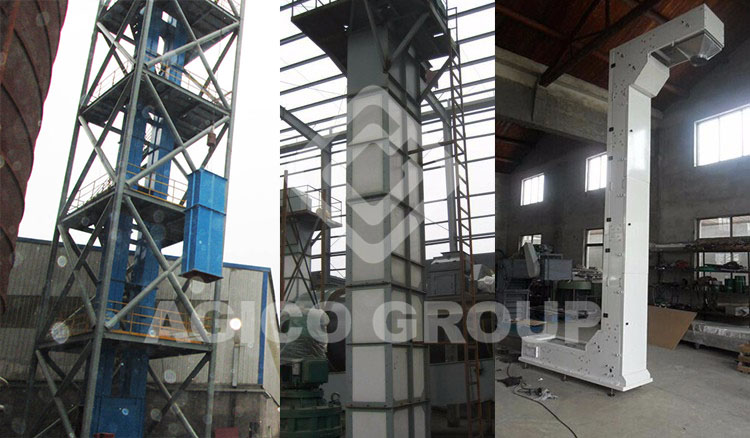 Performance Characteristics:
A wide range of materials. The bucket elevator has less requirements on the type, characteristics and blockiness of the material; it can improve the powdery, granular and block materials; it can improve the abrasive material; it can raise the high temperature material with temperature <250 °C.
Large conveying capacity. The lifting capacity can reach 4600m3/h.
Low energy consumption. The bucket elevator adopts inflow feeding, gravity-induced discharging, and adopts large-capacity hopper conveying. The chain speed is low and the lifting amount is large, and there is no returning and excavating phenomenon, so the driving power is small.
long service life. The traction parts are made of wear-resistant chain and steel core tape, which extends the service life of the traction parts. Under normal circumstances, the service life of the conveyor chain is more than 5 years, the service life of the steel wire tape is more than 3 years, and the operation rate is close to 100%.
The lifting height is high. The bucket elevator runs smoothly and generally has a lifting height of 40m or higher.
reliable operation. Advanced design principles ensure the reliability of the whole machine.
easy to operate. The amount of maintenance is small, the wearing parts are small, and the production cost is low.
Good sealing and less environmental pollution.
Small mechanical size, small footprint and simple process layout.
Working Principle of Bucket Elevator:
The bucket elevator adopts inflow feeding or picking feeding. The hopper picks up the material from the lower storage compartment, and as the conveyor belt or chain is lifted to the top, it bypasses the top wheel and then flips down. The hopper will feed the material. Pour into the receiving trough. The drive belt of the belt-driven bucket elevator is generally a rubber belt mounted on the upper drive roller and the lower redirecting roller. The chain drive bucket elevator is generally equipped with two parallel drive chains with a pair of drive sprockets and a pair of reversing sprockets. Bucket elevators are generally equipped with organic shells to prevent dust from flying during the lifting process.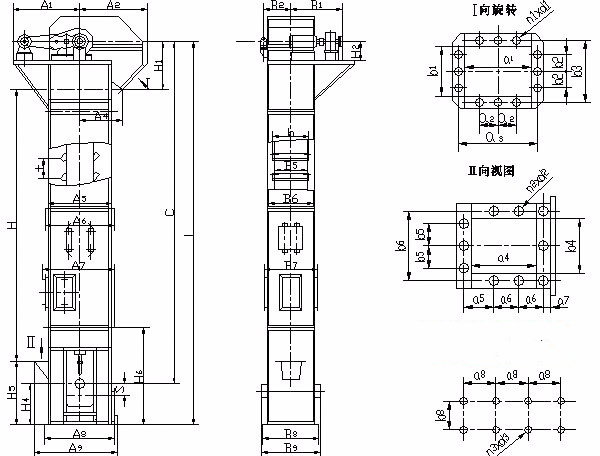 Wear-parts List
| Name | Materials |
| --- | --- |
| Hopper | Q235/16Mn |
| Traction parts | 45/40Cr |
Maintenance Tips for Bucket Elevator
When the elevator is working there should be a special staff to look after. The person must have a common technical knowledge and be familiar with the performance of the hoist.
The selection of the hoist (the characteristics of the delivered material, lifting capacity and the working conditions) shall strictly comply with all the required details in this manual.
The user should formulate "equipment maintenance, maintenance, safe operating procedures". The supervisor must have a hand over and take over system, and carefully check the various parts of the elevator work and lubrication.
Feeding the material should be uniform, and it should have a fixed feeding device. The capacity of the feeding device should be in the range of delivery, over feed will lead to elevator end block.
When the elevator is working all the checking door should be closed. If elevator goes out of order, one should stop it immediately to fix.
The supervisor should observe the operation of the elevator's parts. Check the connection bolts everywhere, if any of the bolts loose should be tightened timely, but it is absolutely prohibited that clean-up and repair the machine during it is working.
The hoist must be started under no load and stop after discharging.
In addition to maintain daily lubrication and replace some wear parts, the general overhaul should be taken every 6 months. Documented defects should be repair when you overhaul. Maintenance includes removing parts and replacing lubricants. The manager can make the maintenance plan and period based on the operating conditions.